Find your own voice in Magic
Campus Magico Academy is the three-month online program specialized in all fields of performance that magicians tend to ignore.
Find your own voice
in Magic
Campus Magico Academy
The three-month online adventure to master the performance aspects that make magic an art
Special Guests Masterclasses
Always available consultation
What is Campus Magico Academy?
We follow your development
Every discipline (juggling, bodybuilding, learning a language…) requires constant focus rather than occasional training sessions.
We will follow your development and enhance your understanding of intermediate to advanced performing skills.
Body consciousness
Scripting techniques
Body consciousness
Scripting techniques
Artistic intentions
Sistemic approach to performing
Artistic intentions
Systemic approach to performing
New lessons will be unlocked every week which can be accessed in your account.
The lessons, the provided exercises as well as the videos can be submitted.
We believe in excellence and group collaboration.
That's why several top magicians, dancers, film directors, will join us to discuss the most useful ideas from their fields to bring them to our world of Magic.
Both in-depth recorded interviews and live talks from all of them.
Not a standard lecture but just the golden nuggets that we specifically asked them for!

An incredible experience!
But be careful! 
Campus Magico may change your life!
Fernando Figueras and his team will inspire you with their outstanding knowledge of the ancient art of Magic with very modern thinking.
I love it and I love them.

It was a complete life changer.
They helped me to think in new ways: emotions, feelings, techniques..!
Fernando pushed me and my routines to a new level.
The reaction and my satisfaction both in close-up and stage grew a lot.
Great teachers that became great friends!
FISM winner, Tim Burton's muse, restless creator and dad-jokes teller. Besides having performed in almost every magic gala and festival worldwide Miguel's performing career also involves touring with some of the most prestigious theatre companies in the world like DV8 or NoFit State.
Magical ideas
Magical journey
Symbolism
Magic as language.
Metaphors in magic
Magic as Metaphor
 Luis Garcia, father of expression in magic and meaningful magic.
Rite of passage –  Analysis.
Agua (FISM act) – analysis
What is an action?
You are what you do!
Unifying Vernon and Robert Houdin visions of the character.
Being vs. doing.
Magical actions
Phenomenon through actions.
Doing vs explaining.
Describing through magical actions
Dramatic magic.
Conflict as a motor for actions.
Types of conflicts in magic.
Psychological actions.
Internal monologue and subtext.
Physical Actions.
Textures
Rhythms.
Actions in space
Doctor in Information Sciences
Awarded film director, writer of movie scripts and teacher/lecturer in universities in several countries.
Specialist on environmental storytelling and video-games scripting.
No better way to understand how to dosage information.
Introduction to Story

Narrative Structures

Art and Craft of Storytelling

Methods of Creativity

Defining the Spine & Writing the Synopsis

Creating Characters

Setting Descriptions

Worldbuilding
Interactive Narratives

Environmental Storytelling
Introduction to Transmedia Storytelling

Building a Storyworld

Transmedia Engagement  
How to keep a file of ideas
How to discover and distil ideas
Classification of ideas
Understanding how the work leads to the idea and how not to deviate
How to evaluate a premise by building the effect and the presentation
How to set out the keys to the direction (the objective)
Detecting the important and less important information
Ethos, Pathos and Logos as analysis of Magician, Play and Act

Creating a notebook of strengths and weaknesses and how to use your knowledge of the subject
Immersion in magic and playful games
How ot manage the development of a game in terms of coherence, breaking the immersion, detecting problems, freedom management…
The deepest thoughts for the cleanest magic
Passionate, analytical, restless and exhaustive.
His projects are always focused on improving the individual and the community.
"The tricks are just the tool of your Magic".
Mario Lopez is one of the most creative Magicians of his era. He is much stronger with silence, than we are with words, so…
Do you know the sensation when a pond is deeper than you thought?
Well, then Campus is like the f*cking ocean!!
To me, it represents the deepest form of understanding magic.
It was like rediscovering magic again. I learnt things I never even thought. And you will too!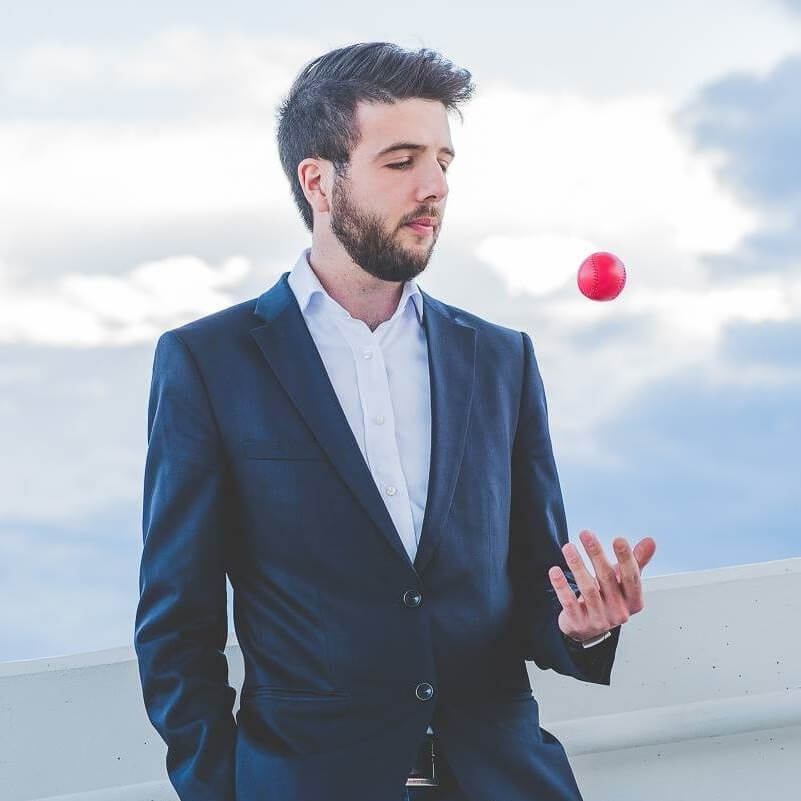 I was able to meet myself.
A great process of introspection.
It helped me to understand who do I believe I am and why I act in life and stage the way I do.
Online group training activities
The group will meet regularly to train and expand the content to optimise the acquisition of knowledge.
You will notice your improvement every week.
The combination of masterclasses and exercises provides perfect support to improve your magic.
We will focus on all those topics that the experts always say you should master, but don't tell you how.
Topics such as: Movement, Meaning, Dramaturgy, Scripting…
One on one video feedback
You will submit the exercises and will receive feedback every week to maximise the learning curve.
We will be available for consultation over the week.
FAQ with text and video answers
The common questions will be addressed and answered in the FAQ section of our site.
You won't come out of this like a copy of another magician, you come out of it as a better version of yourself. 
It was part of a huge shift in both understanding and performing magic.
Though there are some exercises to teach concepts, nobody comes out of this resembling anyone else.
Shaped my own understanding of my magic, and cleared the path for me.

For me, Campus Magico was an experience full of inspiration and food for thought broadening my magic horizon.
It is a unique approach, very high-quality tuition and training.
Campus Magico made me thoroughly analyse the way I present my magic.
What is Campus Magico Academy?
Sign Up for Free now to be the first one who will be informed when we open a new group!
Our first group is already experiencing Campus Magico Academy.
By Signing Up you will be the first one to be informed, when we open a second group!